New & Reclaimed Wood Flooring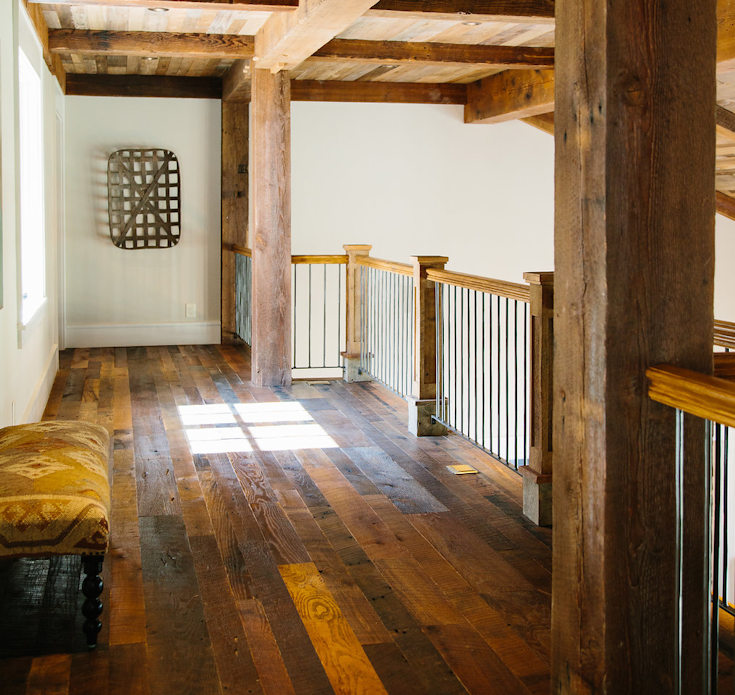 High Mountain Millworks Company can handle all your wood flooring needs. Along with reclaimed wood flooring, we represent several manufacturers who produce new flooring in a variety of species and sizes. Our new flooring is offered in solid & engineered, a layered style that may provide superior dimensional stability in some situations.
New Wood Flooring:
As with reclaimed wood flooring, new flooring offers a multitude of options. New flooring is graded in accordance with those established by the National Wood Flooring Association (NWFA). This insures consistency within the product and allows the buyer a standardized comparison between manufacturers. Flooring grades are based upon appearance and not necessarily longevity or quality.
New flooring is available in a variety of widths and finishes. Certain species lend themselves to smaller or larger width boards. 5″ or better wide plank flooring is perfect for small areas and produces an open, inviting appearance. Wide plank flooring enhances the visual characteristics of the wood. We find it best to choose the width of your flooring in proportion to the room.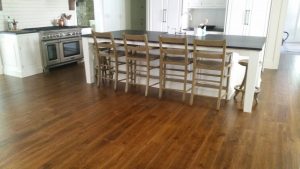 Our new flooring is available in different saw cuts as well. Most everyone is familiar with smooth cut, highly polished wood floors, but did you know new flooring can be hand or machine scrapped before finishing. This allows for an uneven look with high and low spots. A hand scraped floor is perfect for hiding and blending imperfections. Hand-sawn or circular-sawn flooring creates a distinctive look as saw kerf marks remain visible in the floor. The kerfs absorb stain more readily to produce a floor with both dark and light color variations.
You can choose to receive your new flooring either finished or unfinished. Either may work for your specific project and the look and feel that you are trying to achieve. Finishing on-site allows for more choices and a floor "crafted" to your space, however the floor may be subject to side-bonding, where gaps develop in the weakest points of the finish. Pre-finished flooring boards are free to shrink individually and may save labor costs. There are multiple pros and cons of finished vs. unfinished and, we'll be happy to help assist in your choice.
Engineered flooring is another new flooring option we offer. An engineered floor is best when your living space is humid or subject to temperature variations. Engineered floors are more resistant to cupping in most situations. One drawback for engineered flooring is the ability to refinish the floor multiple times over since the top layer is usually thin, however another plus is that engineered flooring is usually pre-finished, saving on installation time.
Reclaimed Wood Flooring:
If you are looking for timeless, beauty, the patina of reclaimed wood often tells a story. Our reclaimed flooring preserves the past and helps future generations author a story for years to come. High Mountain Millwork Company offers all types of finished and unfinished reclaimed wood flooring. There are many options available to meet your construction or renovation needs. We also have the capability to produce flooring from reclaimed wood picked out by the customer.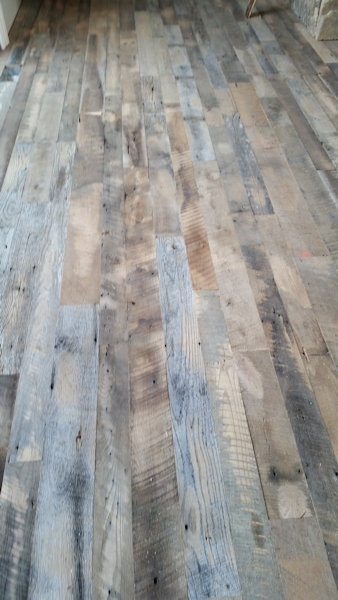 The type of wood and color palette often dictate it's use. Lighter palettes accentuate detail and emphasize the beauty of the wood. Darker palettes may invoke feelings of warmth. Type cut, width , and length add to the floor's disposition as well.
Reclaimed flooring is produced from several parts of a barn. The most rustic appearance is called "dirty top." Dirty Top is made from the old barn siding that is very weathered from years of exposure. It contains nail holes splits, checks, holes and saw kerfs. Most of this is left on the flooring. After the floor is laid, it is then lightly sanded, stained and finished. The types of wood include mostly red and white oak with hickory, cherry, walnut, wormy chestnut.
The next level of appearance for reclaimed wood flooring is called "smooth top." Smooth Top is typically made from the large beams of a barn, rather than siding, that are cut into boards and made into flooring.
Heart Pine is another wood typically used for reclaimed floors. Heart pine flooring is made from large beams that were used to build factories, buildings and such. The beams are cut into lumber and made into flooring. The different types of Heart Pine are "Select," a very clear good quality, "Quarter Sawn," the most expensive, "Naily" is a very tight clear grain with old nail holes in it,  and "Character" grade contains both knots and nail holes.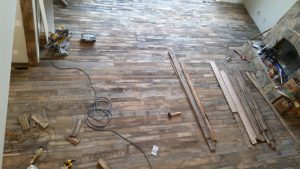 Antique Flooring is reclaimed from timbers and beams from buildings and rural structures pre-dating the 1930's. We hand pick the wood and mill the flooring to your specifications to create an enduring piece of history for your home or business.
Most styles of reclaimed flooring as available as either solid or engineered, flooring made up with layers. We sell all types of new flooring, finished, unfinished, solid or engineered.
Reclaimed wood adds dimension and character to any project. In addition to our reclaimed wood flooring products, High Mountain Millwork Company offers custom millwork for many other projects. More details about interior trim and custom millwork using reclaimed wood can be found here.